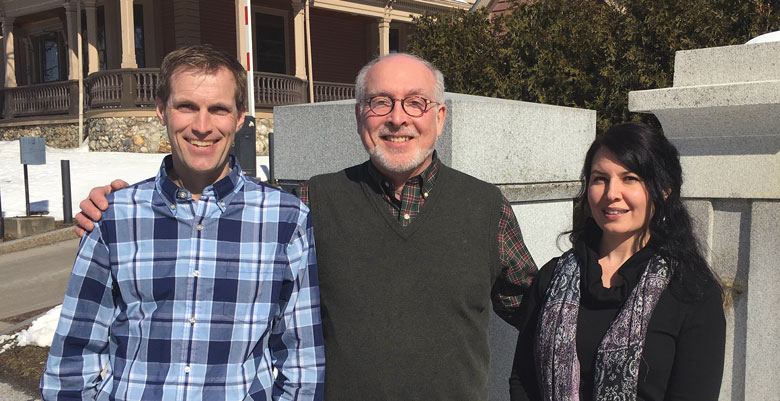 Vermont State Curator David Schutz is the first person to serve in this office, established by the Department of Buildings and General Services in 1987.  David has a BA in history from DePauw University, as well as a master's from Ohio State.  He served originally as a research assistant with the 1979 project that laid the groundwork for curatorial management of the State House, coordinated the ongoing restoration of the building throughout the 1980s and 90's, and has worked with BGS managers and architects on many other restoration projects throughout the Capitol District and Waterbury Complex.  In 2015 he co-authored with Nancy Price Graff a comprehensive history of the State House, Intimate Grandeur: Vermont's State House.  David has worked to support historic preservation projects throughout the central Vermont community, and lives in an old farmhouse in Calais with his wife and two corgis.
Jack Zeilenga has worked as the assistant state curator since September 2015.  Interspersed around fifteen years working in higher education, he previously worked in the curator's office as an intern from 2002 to 2003 and as a research assistant from 2006 to 2007.  He holds a bachelor of arts in interdisciplinary studies from Carleton University in Ottawa, Canada and a master's degree in history from the University of Vermont as well as post-graduate certifications in Teaching and Learning from Norwich University and Leadership in Sustainable Food Systems from UVM.  While in graduate school Jack's research focus was on Vermont history, culminating in a master's thesis titled Issues of the Hearth: The Impact of Women on Politics in Vermont, 1840 to 1940.   An avid organic gardener and basketball fan, Jack lives in East Montpelier with his wife and two boys. 
Angelica Caterino has been the State House Tours Coordinator since September 2016. She has background in nonprofit program management, fundraising, and development. Angelica has a bachelor of arts in history and certificate in management from Johnson State College, a professional certificate in grant writing from University of Southern Maine, Portland, and has done graduate course work in humanities and historic preservation. She lives in Montpelier with her son, and is a musician, family historian, and antique book collector.